It only takes 6 minutes for a dog to die in a hot car.

Make your pledge
I pledge never to leave my dog unattended in a car.
* We have requested your email to keep you up to date on the results of this campaign
and the work of the RSPCA. See below for privacy statement.
Dogs die in hot cars in just 6 minutes
Do not leave your dog in a vehicle. Pets can overheat even
when the windows are down or the car is in the shade.
How fast does the temperature rise in a car
Temperatures in a car can rise to dangerous levels and can rapidly reach more than double the outside temperature even on mild days. Tinting, parking in the shade or leaving the windows open do not help to reduce the inside temperature significantly.
Emergency treatment at home
Emergency treatment at home should aim to bring the body temperature down at a steady rate; spray cool water onto your dog's body and use a fan. You can also help by applying rubbing alcohol or water to the armpits, foot pads and groin. Don't use ice or ice-cold water, as this may cool your dog down too rapidly.
Symptoms of heat stress
Dogs suffering from heat stress may pant, drool and become restless. Over time, they become weak and the colour of their gums may change; they may also start to stagger and experience vomiting, diarrhoea or seizures.
Ute trays can burn
Dogs travelling on the back of utes can burn their footpads or bodies on the tray as these can get very hot in the sun. If you own a ute you should cover the trays with a suitable material and provide a shaded area.
Vet treatment is essential
Heat stroke is an emergency. Given the seriousness of this condition, it is better to be safe than sorry and have your dog checked out by a vet.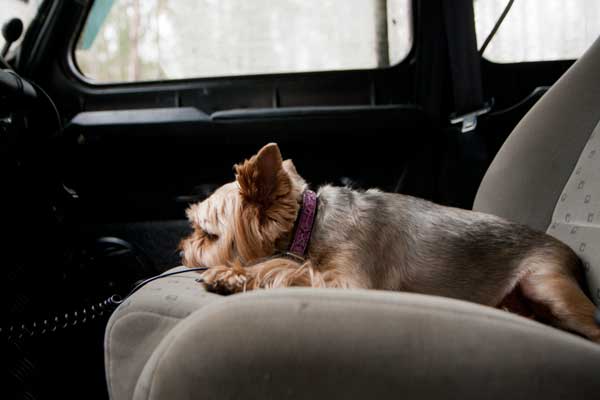 Severe penalties apply
Causing animals to suffer in any way is a criminal offence. If your dog suffers as a result of being left in a car, you can be fined and spend time in jail.
Some dogs may suffer more than others
Dogs with short faces (such as pugs and bulldogs) can suffer in the heat because they find it difficult to breath. Obese and aged dogs are also at greater risk, as are those with heart disease and thick coats.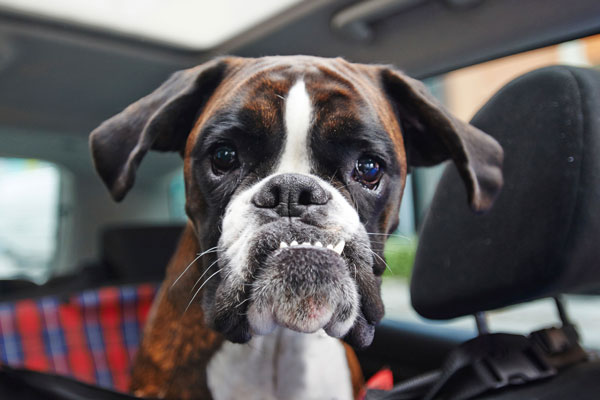 If you see a dog suffering in a hot car, contact your local RSPCA immediately.
View FactSheet
Please note: The timeframe in which an animal starts to feel the effects of overheating will vary depending on a number of factors including weather conditions, temperature within the car, ventilation, hydration, acclimatisation, and exposure to direct sunlight. Overheating may occur more rapidly in predisposed breeds, elderly animals, and those who suffer from medical conditions.